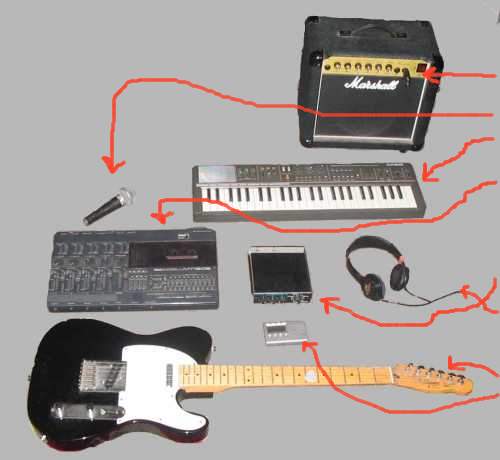 about
recording
records
press
gigs
webcam
pictures
shop
---
u.n.p.o.c.
---
There they are, the Alesis Microverb 2, and the Yamaha mt120s 4-track. That's the Casiotone MT68 keyboard. Those JVC HA600 headphones aren't anything very special but I'm really used to them. If you've sold a pair on ebay since about 2010, it's probably been me that bought them.

Not pictured is Stu Bastiman, drummer. We added his drums last, not first, in the recordings. That's very difficult for a drummer. He's very skillful. I mean, my tempos were all over the place. What drumming! It gives some of the songs a great edge-of-seat quality.

But there's not much to say, it's easier to do your own songs than to learn other people's and it's interesting, recording them.

So that's how I came to have this recording stuff, and the unpoc songs all written, and the recordings of them all recorded.

I played my recordings to my musician friends and they liked them. They put me in touch with the people at Domino Records in London, who said they'd like to help me get the songs heard by more people. That sounded fine to me.

Have a look at the finished records, here.